Restaurants
Hotel Olimpia Avezzano
"Il Ristorantino" Pizzeria-Bistrot
Close your eyes and imagine taking a bite of a crispy pizza with a very soft inside, and feeling in your mouth the taste of fresh artisanal fiordilatte mozzarella and genuine tomatoes, or a taste explosion consisting of potatoes, sausage and truffles...is your mouth watering already?

What is "Il Ristorantino"? The result of a fusion between the Italian pizza tradition, strictly local products and inventiveness. The latest addition to the Olimpia family, the restaurant is a modern venue, a "winter garden" where tradition and innovation meet to offer a unique culinary and sensorial experience.
What more could one ask for?
If the answer to this question is: cold cuts and cheese boards, fries, homemade desserts, a menu of craft beers created together with our official partners of Birra del Borgo, a wine cellar designed in collaboration with the Italian Sommelier Association of Abruzzo, an informal, yet elegant and welcoming environment ... Then "Il Ristorantino" is the place for you!
Furthermore, during the Summer season, the restaurant also functions outdoors, featuring musical evenings, outdoor barbecues and much more. Follow us on Facebook and Instagram to find out all the latest news!

The continuous search for quality and authenticity is at the basis of our philosophy, and is nothing but the reflection of our innate culinary passion. This is us: "Restaurateurs by tradition…. Pizza-makers by passion!"
The Olimpia Restaurant is designed to be the discreet accomplice of your special moments, a place in which to be welcomed by a warm atmosphere, where the art of hospitality becomes synonymous with refinement, an ideal place for a private dinner, a business lunch or a evening to spend merrily with friends.

Our kitchen employs a highly qualified staff, led by chef Sebastiano Balducci, presenting the perfect combination of an elaboration of our gastronomic heritage and the aspiration to healthy and genuine food.
The best specialties of regional and international gastronomy and the carefully selected products are the expression of our commitment to offering our guests only the best. For years we have been leaders in our area when it comes to receptions, weddings and gala dinners. Our salons can accommodate up to 450 guests. We are the place where "elegance marries simplicity", where regional and international cuisine meet, where your dream can come true.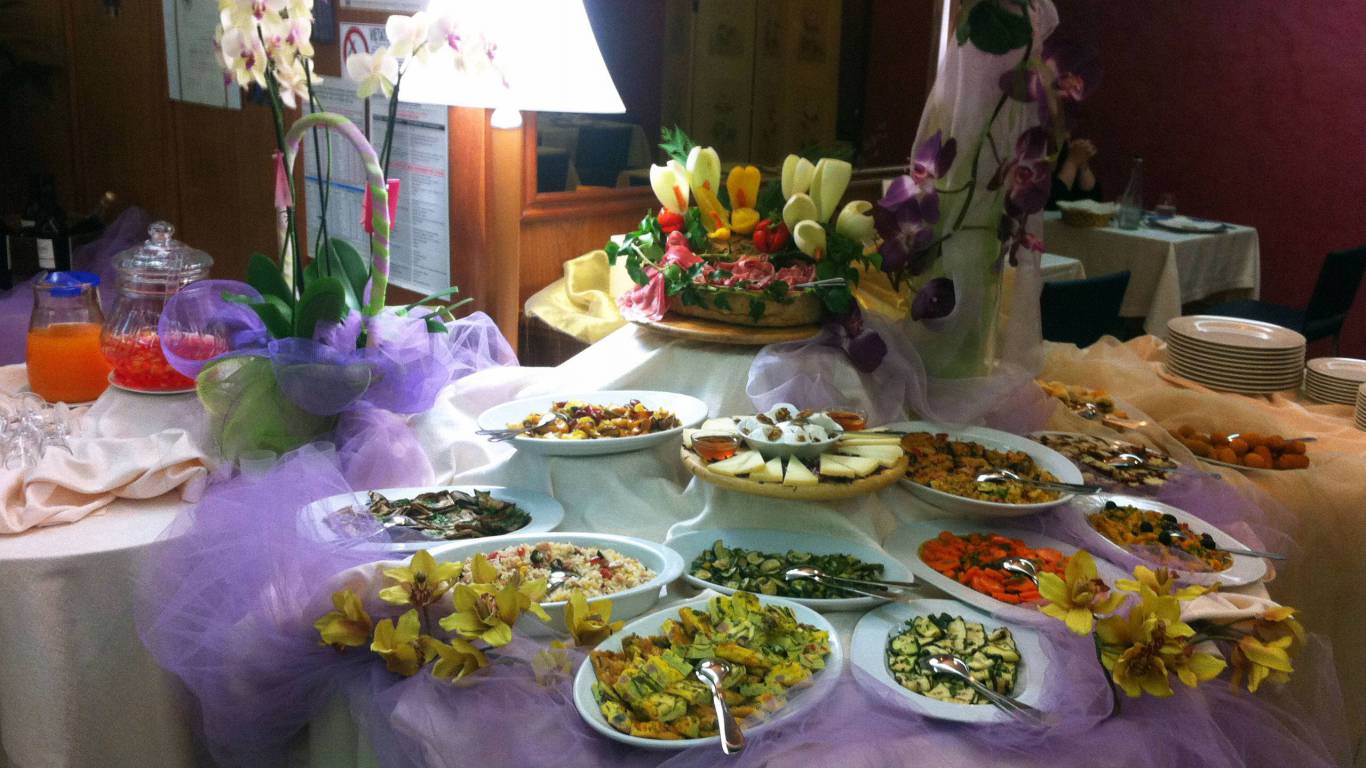 RESERVATIONS