Book now your stay at the best guaranteed rate!
Situated a short distance from the town center of Avezzano, in the shopping area, Olimpia Hotel has as natural setting with imposing peaks of the Apennines Mounts of Abruzzo. The Hotel atmosphere suggests elegance, reservedness and comfort, making stays of business and touristic guests very pleasant, thanks especially to the accurate management of Nanni's family of great hotel tradition that have made Hospitality a goal of life.

What Hotel Olimpia offers to you:

- Hospitality and flawless service.
- Beauty Center and outdoor swimmimg pool. (the SPA will be closed from November 1, 2016)
- Comfortable and rooms divided into different tipologies: Standard, Classic, Junior suites.
- The best local and national cuisine.
- Business Center provided with all the best modern technologies.
- Booking service for comfortable and speedy reservations, with multilingual receptionists.
- Reservations and all included offers for your stays as for romantic week ends or business meetings as for wellness offers and unforgettable holidays offer.
- Ideal location to let you move very easily for your mountain holiday or for your visit to the Abruzzo region beauty.

Appreciations

The Hotel and "Ristorantino" are happy to inform you that they have been pubblished on the following Guide Books 2006:

- Guida Rossa Michelin
- Guida Alberghi & Ristoranti De Agostini
- Guida Alberghi Gambero Rosso
- Guida Alberghi BMW
- Reception multilingual
- WI-FI Connection
- Swimming Pool
- Elevator
- Air Conditioning
- Groups
- Handicap Accessible
- Conference Room
- Bar Service
- Safe
- Beauty Center (closed from November 1, 2016)
- Special Agreements with companies
- Mini bar
- Wardrobe
- Laundry
- Parking
- Garden Park
- Hair Dryer
- Night Porter
- Restaurant
- Banquets rooms
- Tv Room
- Room services
- Tv Sat
- Visa
- Master Card
- American Express
- Carta Si
- Diners
Exclusive services for your stay
Olimpia Restaurant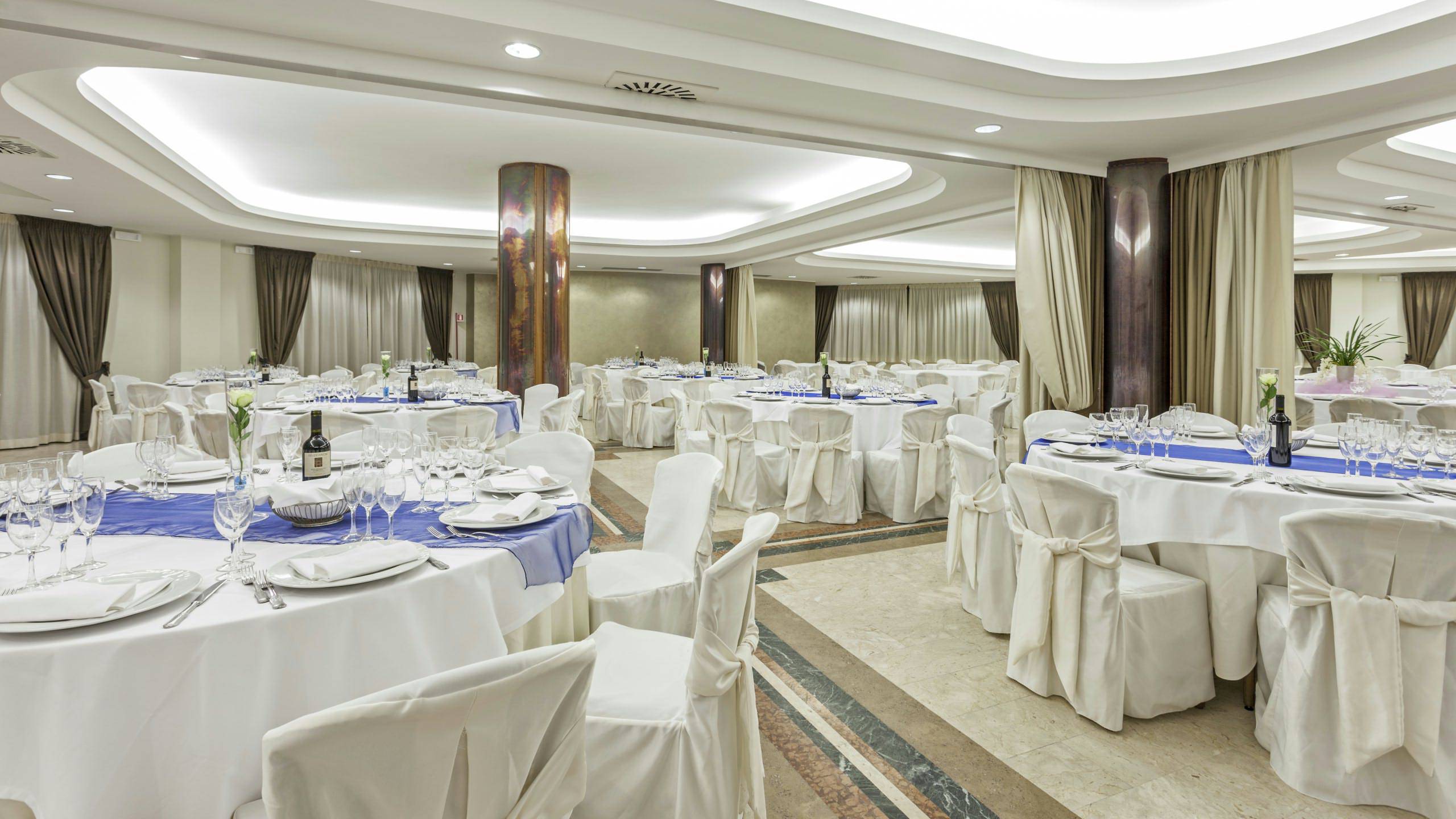 "Il ristorantino" Discreet accomplice of your special moments, welcomes you in a warm atmosphere in which hospitality becomes precious. It is the ideal place for a romantic dinner, a work lunch or for a merry evening happening, to spend together with your friends.
Our cookery, that is formed by a very qualified staff directed by our chef. Sebastiano Balducci, is an unequalled experience, the perfect fusion between our best dining experience and the necessity of healthy and genuine food.
Elegant and comfortable are the environments, refined and accurate is the service,to make our guests feel like they are the center of attention, every time. From 7 a.m. to 10.00 a.m, our "il Ristorantino" welcomes our guests for breakfast. Particularly inviting is the American style breakfast, that in addition to classic croissants and cereals, offers pastry, jam tart, and others cake all home made and a large choise of mixed charcuterie. During the summer we wait you by our swimming pool border for a romantic "candle light dinner " or for a joyfull barbecue.
The Restaurant
It has become during the years the leader of wedding parties and Gala dinners in the whole Marsica region, with his dining rooms that can contain over 450 people: "elegance marries simplicity". The best specialities of regional and national cookery, products carefully selected are the best expression of our engagement in proposing the best of Italian cuisine and culture. Damask and flax table linen, crystal and silverware frames a dream that becomes reality.
Ristorantino's Pizzeria
"... a modern restaurant which preserves the flavour of tradition"
For a culinary sensory experience in the new "winter garden" hotel Olimpia offers a pizza place where the yeast dough for more than 48 hours with fine flours, releases all its scent, inviting tasting pizzas, crushed, and stuffed buns, "panette" with PDO, PGI ingredients and slowfood, coming from Abruzzo National Park and Sirente-Velino-Salviano Park and with all the fruit that our territory generously gives us in every season.
Meats, cheeses, vegetables, salami are mixed perfectly with the dough according to the combination that the customer achieves estimator guided by own taste, from your imagination, from the desire to transform "a simple pizza" in an unforgettable taste experience. The constant search for quality and authenticity, is the basis of our philosophy, reflection of our innate culinary passion.

"Traditionally, restaurateurs ... Pizza place for passion! "
Swimming Pool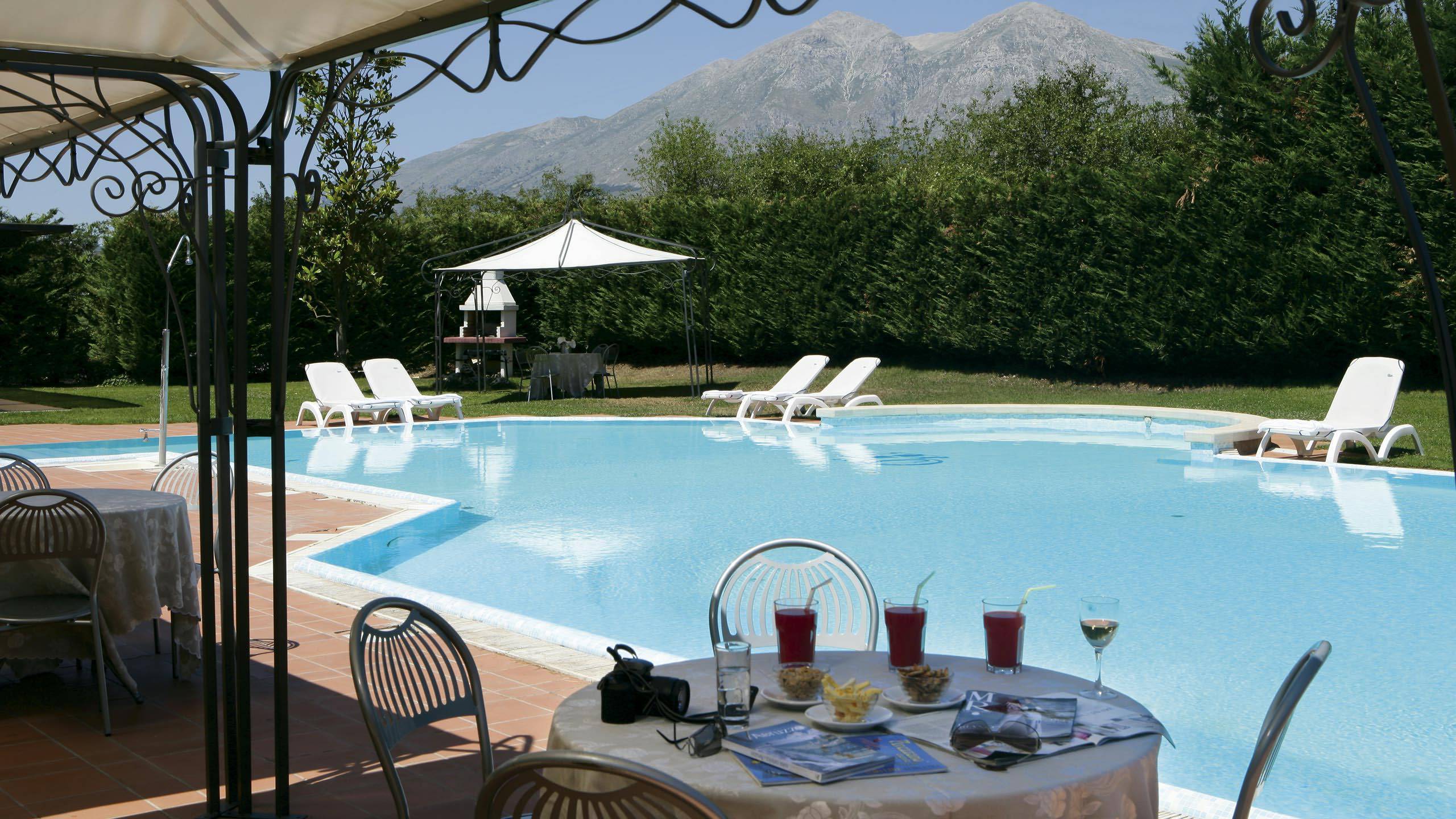 Surrounded by a soft green carpet, the outdoor pool has as its natural backdrop the impressive summits of the back mountains where the massif of Monte Velino stands out. The area is equipped with comfortable reclining loungers and gazebo to offer the ultimate in quality and relaxation.
Sun-lounger areas and fresh areas surround the tub where you can regenerate in the sparkling waters of the hot tub.
By day it is easy to reach since it is adjacent and in continuity with the hundred well-being and the rooms, at night it is illuminated and offers a suggestive panorama.
In summer, comfortably seated pool edge, you can savor the delights of the good table where classical cuisine has deliciously Mediterranean notes.
Short and read the cooking, fresh fish and crustaceans, sublime desserts.
Reserved and elegant, it boasts the ideal atmosphere for quick breaks as well as for quiet evenings.

Silence, peace, relaxation and courtesy is what we offer you as extra.
Business Center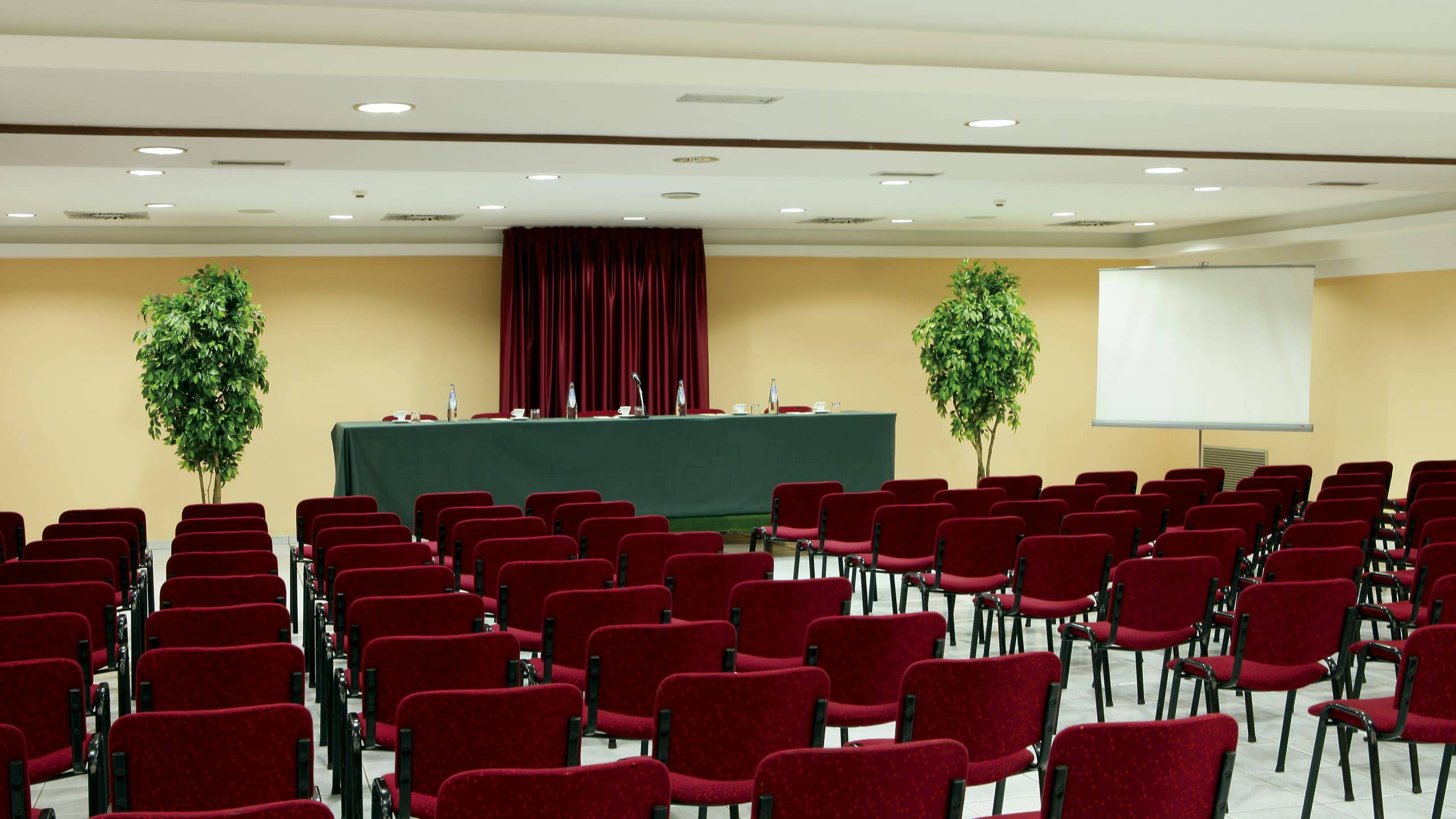 The Hotel Olimpia is the ideal place for conventions, formations course, meetings and workshops.
Our centre is formed by 2 conference rooms that can be modulated and can contain from 15 to 100 seats with different solutions of setting up and it is provided with huge equipment of facilities in order to make easy the organization of every happening in a very absolute quietness and privacy.
The business structure, conceived for conventions full day, is the perfect place for people wishing to combine work and relaxing moments of wellness, in the suggestive and elegant atmosphere of our beauty center.
For such purpose we suggest special daily offers all inclusive.

Facilities and Services
- Air Conditioning - Hangers - Chancellery - Secretary Help Desk Direct Telephone Line - Exibition Room
Audio and Video Equipment
- Microphones and Amplifiers - Slide Projector - TV Monitor - Laser Pointer - Radio Microphones - Boards - Projection Screen - Hi Fi - Video Aerial
Service
- Photocopy Machine - Fax Machine - Beverage - Coffee breaks - Flower Decoration - Transfer - Hostess - Secretary Service - Catering Service
Discover the Olimpia Hotel from our
Photos